---
HE'S HERE...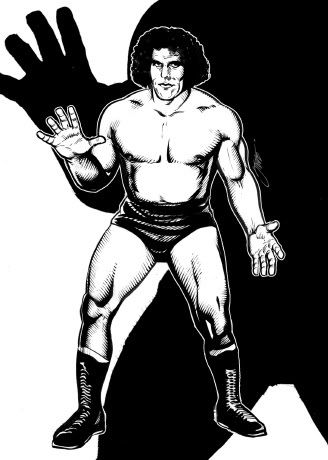 ANDRE THE GIANT!
Filsinger Games presents wrestling's BIGGEST all-time superstar with a special Limited Edition playing card to go along with an awesome new game edition, LEGENDS PARTNERS! Get ready---the BEST CARD in Legends of Wrestling history is taking no prisoners! Which wrestling superstars in YOUR federation will dare to challenge the power of ANDRE THE GIANT?
---
To start playing LEGENDS OF WRESTLING
---
Ever wanted to run your own wrestling federation?
Here's your chance! With the LEGENDS OF WRESTLING card game you'll become the promoter and booker for your own wrestling federation featuring the greatest roster in history!
This is the most exciting wrestling game on the market today! No other wrestling game features such an expansive roster of wrestling legends, no other wrestling game system allows you to play out any type of wrestling match or scenario imaginable,and no other wrestling game inspires such creativity!
You choose the roster! You set up the feuds! You rank the contenders! You crown the champions!
LEGENDS OF WRESTLING is a cards and dice game that features playing cards for professional wrestling legends!
The playing cards have an incredible drawing of the wrestler on the front of the card. On the back you'll find the wrestler's favorite moves (such as Jimmy Snuka's SUPERFLY LEAP finisher) and other realistic characteristics specifically catered to each wrestling legend! LEGENDS features a fast-action game system that allows matches to take place in real time. You can play alone or with friends!
The LEGENDS OF WRESTLING Intro Box Set includes 24 wrestler playing cards, dice, playing charts, instruction book, and game handbook with wrestler bios. Looking for more real life wrestling legends to fill out your league? Just check out all the other LEGENDS OF WRESTLING game editions available! Each expansion game adds another 12 cards to the game!

To start playing LEGENDS OF WRESTLING go here!