HOW TO BEGIN PLAYING LEGENDS OF WRESTLING
With Legends of Wrestling you have a chance to run your own wrestling federation in the role of the main promoter and booker.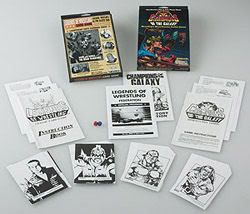 Legends of Wrestling is played using cards, charts, and dice. Everything you need to begin playing is featured in the Introductory Box Set available at the online store. BUY NOW!

Each wrestler's playing card has cool card art on the front and wrestling stats on the back. The Filsinger Games team of experts studies videos and wrestling history to make the moves as realistic as possible for our great fans! You want a realistic wrestling game and you've got it!
The matches themselves take place in real time as you roll the dice to determine a wrestler's moves on offense and how the other wrestler responds on defense! Say Andre the Giant grabs Rob Van Dam in a bear hug. Can RVD escape? You'll find out! Say Jimmy Snuka hits his SUPERFLY LEAP on Ted DiBiase. Will Ted kick out and continue the match? The drama is incredible!

You have choices to throw your opponent into the ropes, turnbuckle or out of the ring! You can even try high risk moves like a big dive off the turnbuckle! Do you want Hawk to try a pin save if Animal is being pinned? Do you want a manager like Bobby Heenan to try and distract the referee to save his wrestler? You can even have a wrestler storm the ring and interfere in a match!

It's your fed! You determine the top contenders for the belts! You decide the top feuds and the special match stipulations! There's no limit except your own imagination!
Each themed expansion edition features more wrestling Legends to add to your federation! The roster of wrestlers in the Legends game is unbelievable! Did we mention there are also special edition Legends of Wrestling cards available too?
Any kind of match or special stipulation that occurs in pro wrestling can be played with the Legends of Wrestling card game system! If you're interested in having wild action like falls-count-anywhere matches, table matches, and cage matches in your federation than the Ringside Companion is a must!
Don't forget about the Legends of the Future game editions! Both Legends of the Future and its expansions Legends of the Future: Second Fall and Legends of the Future: Trios feature the hottest names on the independent wrestling circuit! If you're a fan of Ring of Honor or Chikara wrestling you must check this out!
NOTE: For more on Legends of Wrestling Card Game and how to play check out this helpful review at RPG.net. If you aren't convinced by now that this is the greatest game ever check out more reviews of Legends of Wrestling (and our companion game Champions of the Galaxy) RIGHT HERE!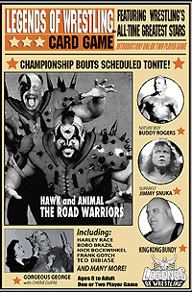 If you love Old School Classic wrestling then this is your game! BUY NOW!