---
ALL-TIME CLASSIC FEUD - FRED BLASSIE VS. JOHN TOLOS - COMING TO LEGENDS!
CLICK HERE TO VIEW LARGER PICTURE!
Their first match took place on July 18, 1953...the last took place 27 years later in the "Blassie Cage" on December 7, 1980. In December, the West Coast's hottest feud of all time explodes again in LEGENDS 11! "CLASSY" FREDDIE BLASSIE, the "King of Men" joins the ranks of the LWF! Along with him comes his greatest archrival, the "Golden Greek" JOHN TOLOS! These men feuded with other LWF luminaries like Lou Thesz, Rikidozan, the Destroyer, the Sheik, and Killer Kowalski, but their blood feud was like no other. They met in stretcher matches, dog collar matches, the "Blassie Cage" match, and Roman Gladiator death matches. What lengths will they go to hurt each other in your fed? It's up to you, Promoter! The tabletop version of LEGENDS 11 is scheduled to begin shipping on December 15 and the online PC version will be available a few days later.

Also available right now are some new additions to our online PC games and printable PDF cards. Plenty of LEGENDS fans have asked for more women wrestlers so here comes the LOW LADIES 8-PACK! Included in this LADIES 8-PACK are: LACEY, RAIN, AMBER O'NEAL, KRISSY VAINE, SIMPLY LUSCIOUS, SUMIE SAKAI, ANGEL ORSINI, and ALERE LITTLE FEATHER! To order the online version GO HERE. For a printable PDF GO HERE. Add these awesome ladies to your fed NOW!

Note: Cover photo above by Mike Lano.

---
WHO WILL MR. SAITO JOIN UP WITH IN LEGENDS 11?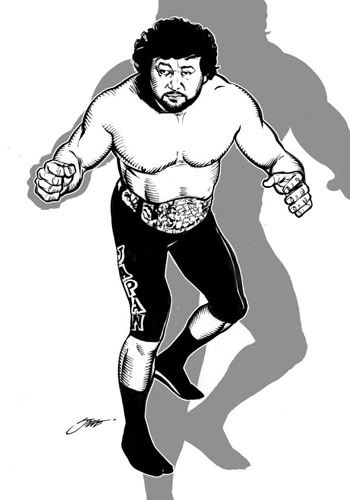 "Mr. Torture" himself, Mr. Saito, is coming to LEGENDS 11!

A former world heavyweight and tag team champion, Mr. Saito will find many familiar faces in the LWF. Will he reunite with former tag team championship partner Mr. Fuji and manager Captain Lou Albano? What about his past association with Nick Bockwinkel, Ray Stevens, and Larry Zbyszko? Saito engaged in a brutal feud with Antonio Inoki that saw them battle on a deserted island!

How long before those tensions reignite? You'll find out in LEGENDS 11 and LEGENDSonline Series 5 - both coming in December from Filsinger Games!
---
COLT CABANA TEAMS UP WITH FILSINGER GAMES FOR EXCITING TWO-CARD RELEASE!
Look out, here comes a double dose of one of wrestling's most charismatic performers, COLT CABANA!

COLT CABANA is teaming up with Filsinger Games for a unique release of two playing cards in December. First, Colt will join the impressive lineup of wrestlers coming in LEGENDS 11, but he'll also be featured in a Limited Edition playing card that is compatible with the new CHIKARA game! That's two versions of COLT CABANA and game collectors will love owning both of them!

"We've never done this before so it's really special," said owner Tom Filsinger. "On one hand we're including Colt as part of our Legends of Wrestling Card Game series and on the other Colt will be selling his Limited Edition card exclusively at his store. Wrestling fans and game fans are going to love this."

Keep watching in the weeks ahead for information on ordering both COLT CABANA cards and LEGENDS 11!


---
JIMMY HART SHOUTS OUT THAT HE'S COMING IN LEGENDS 11!
He's been part of a chart topping rock band. He's managed champions from coast to coast. What's left for Jimmy Hart? Managing in the LWF, of course! "The Mouth of the South" has managed LOW grapplers like Greg Valentine, King Kong Bundy, Rick Rude, The Mountie, Bobby Eaton, and Koko B. Ware in the past. Will he work with some of his former protégés to dominate the LWF? Or will he team up with some of the new blood entering in LOW 11? Hart knows who is entering the LWF with him, and for once, he's keeping his mouth shut! LEGENDS 11 is due in December so get psyched! Keep watching for more announcements every Monday night!
---
AMASIS DANCES HIS WAY INTO UPCOMING CHIKARA TRIBUTE PACK!
CLICK HERE TO VIEW LARGER PICTURE!
Amasis retired this past summer from and in-ring-action, but his legacy lives on in the CHIKARA Wrestling Game! CHIKARA fans will be transfixed with SNAKE CHARMER, and moving to the beat along with the Osirian Portal during their incredible DANCE OFF mechanic when you book them in your very own CHIKARA fed! Amasis will be joined by El Generico, Johnny Saint and Larry Sweeney in the CHIKARA TRIBUTE 4-Pack, a special Limited Edition collector's set honoring four of CHIKARA's most popular legends!
The CHIKARA TRIBUTE 4-Pack will be exclusively released during the upcoming Filsinger Games fan event called Champions of the Galaxy CONquers the Galaxy Day on October 22. For more about CONquers the Galaxy Day GO HERE! CHIKARA TRIBUTE 4-Pack orders will begin shipping on October 24. To pre-order GO HERE!
---
8 NEW LEGENDS CARDS ARE AVAILABLE NOW!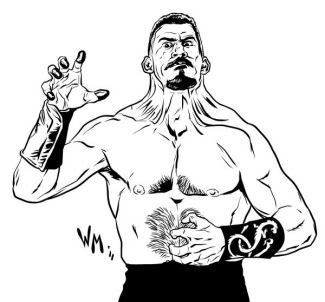 That's right! We're offering two different 4-packs - both of which are available in either printable PDF form or in digital Online form for use with your LEGENDSonline fed!

The LEGENDS OF WRESTLING 4-pack includes:
KURRGAN, KEN DOANE, LASH LEROUX and AFA, JR.!

The LEGENDS OF THE FUTURE 4-pack includes:
KEVIN STEEN, RHETT TITUS, KENNY KING and CHRISTINA VON EERIE!

The PDF version of each 4-pack includes four wrestler cards, bios for each wrestler, and instructions for easy printing!
The ONLINE version of each 4-pack includes four digital wrestler cards, bios, and each card can be used with all LEGENDSonline features!

But wait, there's MORE good news! ALL 8 of these new wrestlers will ALSO be released in DIGITAL FORM! That's right, for those who enjoy LEGENDSonline, there will be two seperate "4 packs" of wrestlers to add to your digital feds!

GO HERE TO ORDER THE *LEGENDSonline LOW 4-PACK* (digital/online only) for $6!

GO HERE TO ORDER THE *LEGENDSonline LOTF 4-PACK* (digital/online only) for $6!

GO HERE TO ORDER THE *LOW 4-PACK PDF* (printable PDF only) for $6!

GO HERE TO ORDER THE *LOTF 4-PACK PDF* (printable PDF only) for $6!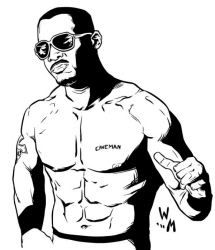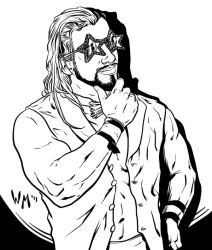 ---
OPHIDIAN PLAYING CARD IS READY TO ORDER!
CLICK HERE TO VIEW LARGER PICTURE!
Our latest release is here for our CHIKARA series and it's none other than the slithering OPHIDIAN! Add OPHIDIAN to your game roster right away by ordering HERE!
---
BDK AIMS TO DOMINATE CHIKARA WRESTLING GAME!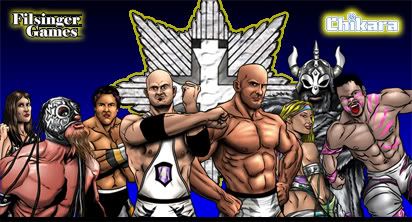 CLICK HERE TO VIEW LARGER PICTURE!
The BDK (Bruderschaft Des Kreuzes) has won nearly every honor in CHIKARA and have their sights on even more in the CHIKARA Wrestling Game! Claudio Castagnoli and Ares intend on capturing the CHIKARA Championship and the Campeonatos de Parejas with moves like the RICOLA BOMB and the DOOMSDAY UPPERCUT. When they form a trio with Tursas they unveil the deadliest move in CHIKARA, the dreaded RAGNAROCK.
Joining the BDK in the CHIKARA Wrestling Game is the unpredictable former "Carpenter Ant" Pinkie Sanchez. Pinkie's playing card features all his most unpredictable moves including the BURNING SNICKLEFRITZ.
The CHIKARA Wrestling Game is coming soon! See below for more info.
---
LADIES OF THE BDK WILL COMPETE WITH MEN IN CHIKARA GAME!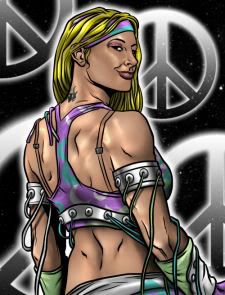 CLICK HERE TO VIEW LARGER PICTURE!
Look out! Here comes CHIKARA's beautiful ladies!
Sara Del Rey and Daizee Haze (pictured above) have joined the BDK to prove they can compete with the men of CHIKARA. CHIKARA has no weight or gender divisions and allows everybody to compete on a level playing field. Sara Del Rey and Daizee Haze look to be the first female competitors to challenge for and win the Campeonatos de Parejas. Can they pull if off?
You'll find out when you order the upcoming CHIKARA Wrestling Game. See below for more info.
---
SERIES 4 FOR LEGENDS ONLINE IS NOW AVAILABLE!
It's here! You can now order Series 4 of our LEGENDSonline game! The new edition features digital playings cards for Bryan Danielson, Lou Thesz, Hacksaw Jim Duggan, One Man Gang, Buddy Rogers, Hillbilly Jim, Val Venis, and many more including a new "alternate" playing card for Curt Hennig!
LEGENDSonline now features over 75 classic wrestlers for your digital federation plus there's the awesome Andre the Giant playing card! To order Series 4 or any of our online games GO HERE!
---
ULTRAMANTIS BLACK COMING TO CHIKARA GAME!
The maniacal Ultramantis Black is coming to the Chikara Wrestling Game from Filsinger Games! The founder of the infamous Order of the Neo Solar Temple has his eyes on taking over Chikara...and the game world!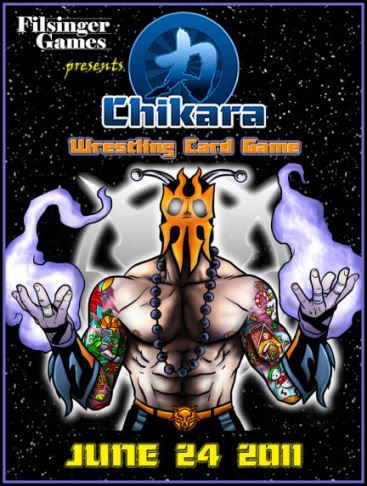 CLICK HERE TO VIEW LARGER PICTURE!
The Chikara Wrestling Game will feature 24 full-color playing cards with awesome card art by Werner Mueck as well as a handbook with wrestler bios plus everything you'll need to play! The tabletop card game uses the same fast action system used for Filsinger Games hit games, Champions of the Galaxy and Legends of Wrestling Card Game.
Ultramantis Black can't wait to unleash his Praying Mantis Bomb and the rest of his arsenal against the other 23 wrestlers in the game! Will Ultramantis Black be the first ever Chikara Champion? Its up to you to decide who competes for the title in your fed!
MODERN ERA STARS COMING ALSO!
What a great variety of wrestling stars to add your Legends Online federation! There's VAL VENIS and STEVE CORINO as well as BILL ALFONSO and NORA GREENWALD! Series 4 will rock!
---
GOLDEN AGE SUPERSTARS THESZ AND ROGERS COMING TO SERIES 4!
Last week we announced that a current wrestling star, Bryan Danielson, is coming to LEGENDSonline. Now we'll travel back in time to announce two of the greatest names in wrestling history - LOU THESZ and NATURE BOY BUDDY ROGERS! Your online fed is going to have some major superstars! Watch for more announcements next week!
UPDATED BRYAN DANIELSON CARD COMING IN APRIL ONLINE GAME RELEASE!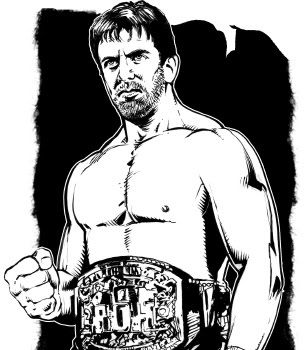 Series 4 for LEGENDSonline is coming in April and one of the headliners is BRYAN DANIELSON! His digital playing card will feature updated moves that reflect his evolving career so you won't want to miss it!
There will be 18 regular playing cards plus a bonus card featuring a "new look" for a wrestler already appearing in the game. Who will it be? You'll find out if you keep watching our Monday Night Legends announcements and get psyched! Counting Series 4 our LEGENDSonline game will feature a total of 76 playing cards (not including Andre the Giant and the Dark Menace), so you'll have more than enough wrestlers for an awesome online fed!
On another note and in response to an overwhelming majority vote in a fan poll we have converted all LEGENDSonline digital cards from wrestler photos to official playing card art. LEGENDSonline is on the move...get on board now!
---
TOTAL SALES IN 2010 AMONG BEST EVER FOR FILSINGER GAMES!
Filsinger Games is on the march!
The final stats are in for 2010 and profits were up 25% compared with 2009! In fact the last three years are in the top five in total sales in our 25-year history, so there might be a recession somewhere but not here at Federation HQ!
Chalk up our continued growth to the exciting new color cards for Champions of the Galaxy as well as the launch of LEGENDSonline. And if you think that's exciting wait'll you see the great stuff coming in 2011 including an all-CHIKARA full-color game edition as part of our Legends of Wrestling series!
Some other interesting facts about 2010: Total sales for Champions of the Galaxy exceeded Legends of Wrestling (54% to 46%), table-top sales exceeded online sales (68% to 32%). Top sales by state/country: 1. New York 2. Ohio 3. Illinois, Pennsylvania (tie) 4. California, Canada (tie) 5. Texas 6. England 7. Michigan 8. Virginia 9. New Jersey 10. Florida.
The best is yet ahead for 2011! Strap yourself in and thanks for being along for the ride! We're nothing without you.
---
FILSINGER GAMES TO TEAM UP WITH CHIKARA ON SUMMER GAME RELEASE!
The following is a joint news release from Filsinger Games and CHIKARA:
Filsinger Games and CHIKARA are proud to announce they are teaming up on all-new game featuring popular CHIKARA wrestlers. The game is scheduled for release in summer, 2011.
CHIKARA is one of the most popular wrestling federations in the United States featuring a variety of colorful and exciting wrestlers. The style of CHIKARA is perfectly suited for Filsinger Games, a company that for decades has released popular wrestling games like Champions of the Galaxy and Legends of Wrestling Card Game.
The all-CHIKARA game will be an exciting new venture for both companies. "It's a match made in game and wrestling heaven," said owner Tom Filsinger. "Any CHIKARA fan, or in fact any wrestling or game fan, will love it!"
The CHIKARA game is scheduled for release in July, 2011. Players will be able to run their own CHIKARA federation with the most popular stars at their fingertips. Playing cards will be drawn by artist Werner Mueck who has contributed many drawings for Filsinger Games over the years.
CHECK BACK FOR MORE UPDATES ON THIS EXCITING GAME RELEASE!
---
"LEGENDS TEN" IS HERE! NEW GAME EDITION IS READY TO PLAY!
The tenth edition of "Legends of Wrestling" is here and it's our greatest triumph! See below for all the great signings and get your fed ready, there'll be top competition from the likes of all-time legend LOU THESZ and top notch tag competitors THE SHEEPHERDERS (BUTCH AND LUKE) to say nothing of heels like VAL VENIS, KEVIN SULLIVAN, JERRY LYNN and MR. FUJI!
Be sure to ORDER NOW, the game ships within 48 hours! And if you're a newcomer to Legends madness, order our Introductory Box Set and start playing! Wrestling fans - THIS IS THE GAME FOR YOU!
---
FIRST UNIFIED WRESTLING CHAMP, "THE SOLID MAN" TO ENTER LEGENDS GAME!
Last week we announced that JERRY LYNN is coming to LEGENDS TEN and LYNN is still active on the wrestling circuit. Our next announcement proves how deep and historic our roster is with the coming of a man who excelled as a wrestler in the 1800s: "THE SOLID MAN" WILLIAM MULDOON!
In 1877 MULDOON defeated Andre Christol to become recognized as the first official wrestling champion winning the Greco-Roman Belt. His stamina became the stuff of legend and he once wrestled in a match that lasted over seven hours! Wait till you see his card stats. How will stars of the current era match up against "THE SOLID MAN?"
LEGENDS TEN is scheduled to begin mailing on Monday, November 29. ORDER NOW so you get it right away, there's still one wrestler that hasn't been announced and you'll find out who it is when it comes in the mail!
---
LOOK OUT ROB VAN DAM! "THE NEW F'N SHOW" IS HERE!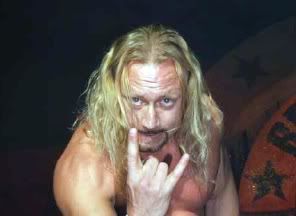 Here comes a problem for Rob Van Dam! His nemesis JERRY LYNN is coming to LEGENDS TEN and according to LYNN he's "The New F'n Show!"
LEGENDS TEN will bring back a classic hardcore feud pitting Rob Van Dam against JERRY LYNN. Can LYNN get revenge? He's won many belts in many federations including World Titles. LYNN has also feuded against other stars in the Legends game including Sabu and wrestlers in our Legends of the Future games like Austin Aries!
LEGENDS TEN is looking better than ever with wrestlers from many eras of wrestling history represented. GO TO THE STORE to pre-order so you get it right away! LEGENDS TEN starts mailing on Nov 29! Jerry Lynn photo is copyright Wrestling Revue and Wrestling Archives.
---
ALL-TIME GREAT LOU THESZ ENTERS THE LEGENDS RANKS!
Look out Legends game fans! One of the top wrestlers of all time is coming to LEGENDS TEN on November 29!
We won't summarize the many accomplishments of legendary LOU THESZ in this short space, but many wrestling historians consider him the #1 wrestler of all time! Combined, he held the NWA Championship for 10 years, three months and nine days (3,749 days total), longer than anyone in history. He also made a record of 936 consecutive wins between 1948 and 1955. Imagine a dream Main Event of epic proportions pitting LOU THESZ against Andre the Giant! Or one of his classic feuds against Buddy Rogers and Rikidozan!
Thanks to game card writer supreme, Tim Dalton, for helping arrange this key signing. By adding one of the top three wrestlers of all time, LEGENDS TEN is off the charts for impact! Keep watching for more.
The photo above is courtesy of The Ring Chronicle. Learn more about the legendary career of LOU THESZ by going here.
---
LADIES CHOICE VAL VENIS COMING TO LEGENDS!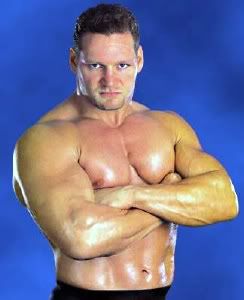 One of wrestling's most flamboyant wrestlers is joining the LEGENDS TEN lineup and it's none other than VAL VENIS! VENIS was a mainstay during a popular period in professional wrestling with his unique attitude and mannerisms.
VAL VENIS also won several championship belts in major federations as well as partnering and feuding with wrestlers already in our Legends lineup like D-Lo Brown, Rob Van Dam, and more!
LEGENDS TEN (official name of game edition not yet announced) is coming on November 29 so get pumped! Photo copyright Obsessed with Wrestling.
---
"LEGENDS OF THE FUTURE: TRIOS" IS READY TO ORDER!
Here comes our latest and no doubt our best ever LEGENDS OF THE FUTURE game edition! It's called TRIOS as in 3, meaning you've got some awesome 3-man tag action coming soon in your Legends of the Future fed!
LEGENDS OF THE FUTURE: TRIOS features some of the greatest names on the Indy circuit like AUSTIN ARIES, JAY AND MARK BRISCOE, GRAN AKUMA and ICARUS, AMASIS and OPHIDIAN, and more! There's a total of 12 playing cards PLUS with our BONUS DEAL you'll receive 4 Limited Edition Cards! All the cards feature art by the Master Himself, Steve Stanley!
Please note that we will be on a promotional game tour in California from July 16-26 and no orders will be mailed at that time. Orders resume mailing on July 27.
LEGENDS OF THE FUTURE: TRIOS is here!
Order Now!
---