Filsinger Games Online Catalog :: Home :: :: LOW VINTAGE 4 Pack PDF
---
LOW VINTAGE 4 Pack PDF
Cost: $6.00
Description: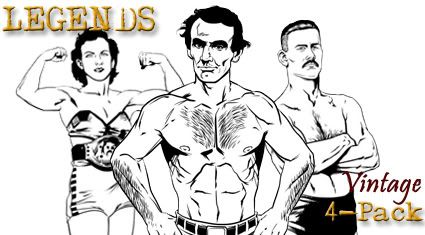 This game edition is a *PRINTABLE PDF FILE* -- you will not be receiving a package in the mail, but rather access to a downloadable PDF file through logging in to LEGENDSonline. This PDF file is formatted for easy printing.

This game edition PDF INCLUDES:
4 wrestler cards
wrestler bios with move descriptions
printing instructions
The WRESTLERS INCLUDED in this 4 Pack are:
ABRAHAM LINCOLN
MILDRED BURKE
EVAN "STRANGLER" LEWIS
HENRY IRSLINGER
For HELP with any Filsinger Games Online questions, click here.
When purchasing this set you should NOT include shipping costs.