Filsinger Games Online Catalog :: Home :: :: LEGENDSonline - CWF Hollywood (NWA Hollywood)
---
LEGENDSonline - CWF Hollywood (NWA Hollywood)
Cost: $19.00
Description: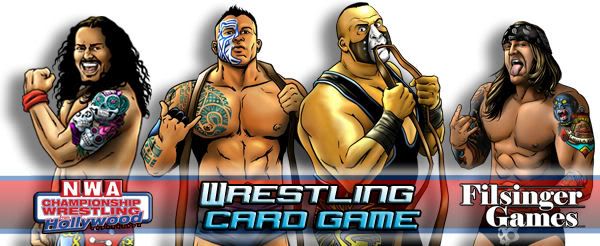 This

LEGENDSonline

game edition features 12

digital Legends of Wrestling playing cards, each

with their own written bio

! Any digital Legends cards you own are all-around viewable and playable on all aspects of the

LEGENDS

online service. There are no subscription costs to play LEGENDSonline - all you need to play are digital playing cards.
NWA HOLLYWOOD ROSTER:

Adam Pearce
Willie Mack

Joey Ryan
Scorpio Sky
Navajo Warrior - The Tribe

Hawaiian Lion - The Tribe

Nick Madrid
Johnny Yuma
Rico Dynamite - Los Banditos
Tito Escondido - Los Banditos
Cedric the Hitman
The Hobo
Note: For HELP with any

Online ordering

questions,

click here

.
Note when ordering:

LEGENDS

online orders do not involve shipping costs.